Dear PV East Parents,
We are looking forward to having many of our 6th Grade students transition to the hybrid 'in person' instruction next week. I recognize that you have many questions and concerns regarding this transition. Please know that we are making plans to have a positive transition experience for your child. While much of this information relates specifically to 6th Grade, there is important information for everyone to be familiar with regarding our new procedures. Please read this entire document. If you have any questions please contact the main office. 
We will be closely monitoring all of these new procedures and will adjust as necessary. Thank you for your patience and support as we transition to 'in person' instruction.  
Hybrid Schedule
Those students who have selected to participate in "Hybrid" learning will be divided into TWO  groups, A & B, based on their Last Name:
Group A is A-L = Monday & Tuesday with alternating Wednesday 
Group B is M-Z = Thursday & Friday with alternating Wednesday
Students will transition back on Tuesday, September 29th. So the 6th Grade Hybrid 'Group A' (A-L) students will return to school on Tuesday (9/29) and Wednesday (9/30). 6th Grade Hybrid 'Group B' (M-Z) students will return to school on Thursday (10/1) and Friday (10/2). I have attached a district calendar that displays this information for September and October.
Those students who selected Virtual Voyage 2.0 will remain virtual. This will ensure proper social distancing as well as promote consistency. All students are also expected to wear a face covering in school.  On the days that students are not in school, they will continue to participate virtually. 
You may always opt to keep your student home on the days that they are assigned to travel to school. So long as your student participates virtually he/she will be marked 'present'.
Day 1 Checklist Items -- What students should bring with them to school:
Schoolbag (Backpack)
Chromebook & charger
Notebook
Sharpened pencil or pen
Water bottle
Extra face covering (mask)
Bus Schedule
The student bus schedule is available in ParentVue. Each day the school bus will be going to every stop regardless of whether it is a Group A or B day, so it is important that your student knows if it is their particular day to ride the bus. Students will need to return home if they arrive on the wrong day.
First Day Packet Forms
If you have not yet sent in your first day packet forms, please send them to school on Tuesday with your child. Packets should be handed into their homeroom teachers.  We need the Health Emergency Form, Limerick Form, and the Symptom Monitoring Form. https://sites.google.com/a/pvsd.org/district/parents/first-day-packet-materials
Health & Safety
Please review the 'Symptom Monitoring Acknowledge' form. It is important to ensure that your student is symptom free each day that you send your child to school. You may always keep your child home and have them attend school virtually. Your child will still be marked 'present'. 
Symptom Monitoring Acknowledgement Form
All students are required to wear a face covering throughout the school day. Everyone is also expected to wash their hands, wipe down their desk and to maintain a proper social distance.
Please review the PA Re-Opening School Guidelines. 
Schools may allow students to remove face coverings when students are:
Eating or drinking when spaced at least 6 feet apart; or
When wearing a face covering creates an unsafe condition in which to operate equipment or execute a task; or
At least 6 feet apart during "face-covering breaks" to last no longer than 10 minutes.
ID Badges
All students will be issued an ID Badge with their name and photograph, lanyard and plastic sleeve on their first day in school. Students are required to wear their ID Badge every day. This ID Badge will be used in the cafeteria, main office, cafeteria, library and counseling center. If a student forgets their ID Badge they will be issued a temporary badge in the main office. If a student loses their ID Badge there is a $5 replacement cost. A replacement lanyard and plastic sleeve is $2. 
Chromebook Charging
It is expected that students come to school with a fully charged Chromebook.  Students need to bring their Chromebook and charger to school every day.  We will provide labels with student names to be placed on Chromebooks and chargers on the 1st day in school. Students will be able to charge their Chromebook during their lunchtime if it is running low on power.  
Student Drop-Off
Parents may drop off their student in front of the auditorium entrance from 7:15 - 7:50AM. Please pull all the way down to the end of the curb so that other parents behind you can pull up their car. We ask that your child promptly exit your vehicle.  Please maintain a 5MPH speed limit on campus. Once students enter the school building they will need to travel to the auditorium unless your student is having breakfast, in which case your child needs to go to the cafeteria. Seating in the cafeteria and auditorium is marked for proper social distancing. There will be adults throughout the building to assist students with directions. Please see the attached map.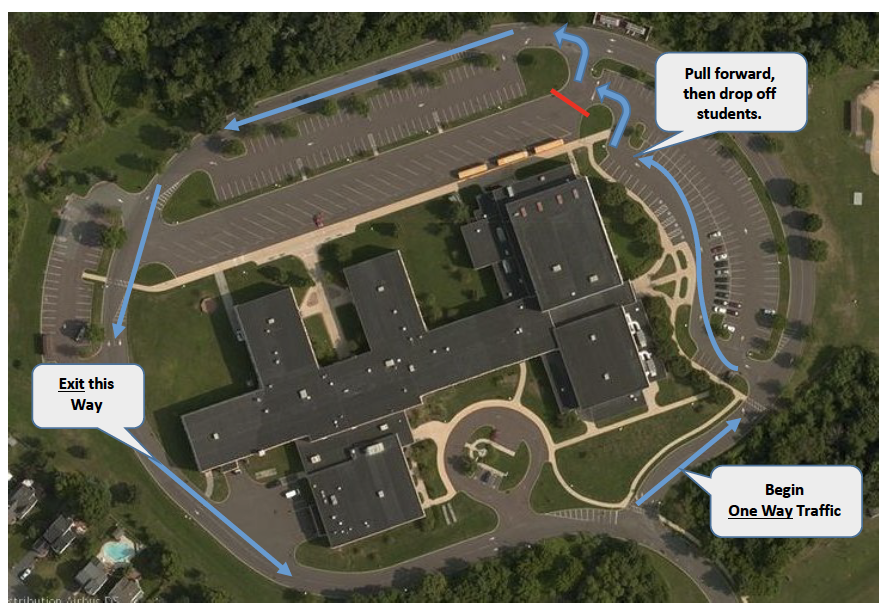 Student Pick-Up
Parents may pick up their student after 2:45 PM, behind the school on the bus loading platform. In order to promote social distancing and to properly manage school busses, we have designated this area and time for parent pick up. If you arrive early, there will be parking available in the parking lot across from the bus loading platform. Obviously, you will need to wait until the 2nd Bus Run departs before you can pull around to pick up your student on the bus loading platform. Thank you in advance for your patience and flexibility as we work together to keep all of our students safe.  Please see the  attached map.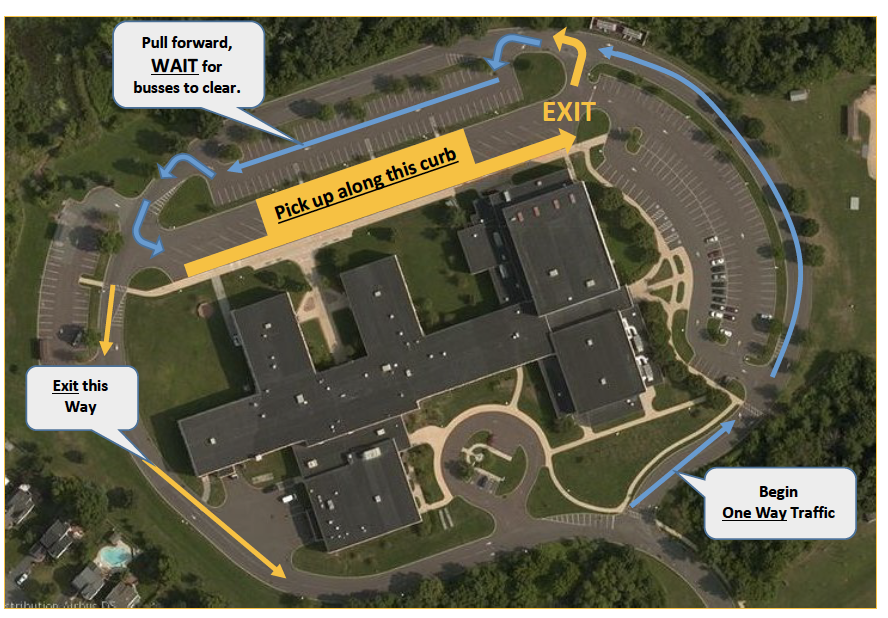 Hallways
There are arrows on the floor designating the direction that traffic flows. Students are expected to wear masks and maintain social distancing in the hallways. They should not be stopping in the hallways. Lockers and water fountains are off limits so there should be no need to stop. 
Cafeteria
All information regarding our Food Service program is located at the Lunch Menus link on our school website. This link also carries our daily lunch menu. There will be a paired down list of menu items but Food Service will be offering daily breakfast and lunch as well as 'Grab & Go" options for virtual students. We participate in the National School Lunch Program and the Federal Government will be providing breakfast and lunch to ALL Students at  NO COST until December 31st. Students will still need to pay for any 'a la carte' items. 
Students will be seated in the cafeteria by their Period 1 class as well as assigned an individual desk to sit in. At their seat, students may remove their face covering to eat. We designated two areas; the main cafeteria and a Tech Ed room, to provide additional cafeteria seating in order to promote social distancing. At the moment all 6th Grade students can be managed in the main cafeteria. Our goal is to get all of the students outside for lunch on most days, weather permitting.
Bathrooms
All bathrooms will be open throughout the building. We are permitting one student at a time in the bathroom. There will be no bathroom passes. Instead a student will place their backpack on the hook at the entrance to the bathroom. The backpack will alert another student that the bathroom is occupied and to therefore wait or to go to another bathroom. There will be hallway monitors assisting with bathrooms. We will be closely monitoring this new bathroom procedure and adjust as necessary.
Flipped Schedule on 9/29 & 10/1
Tuesday (9/29) and Thursday (10/1) are the first day in the building for Group A & B respectively. Therefore to provide time for an orientation to those 'in person' 6th grade students, Periods 1 and 10 will be flipped. Those students who are virtual will have an asynchronous activity to complete during Period 10 from 7:56 - 8:48AM. 
No Homeroom 
Starting on Tuesday (9/29) all students will skip their 'homeroom period' and go directly to their first period class regardless if they are virtual or 'in person'. First period will begin at 7:50AM and cover everything that would happen in the Homeroom period. This will reduce one more transition for our 'in person' students. 
Evacuation Drill
There will be an evacuation drill on Tuesday (9/29) and Thursday (10/1) in the afternoon. We will review all of the safety drills with your student when they arrive in the building. If your student is attending class virtually, they will need to log off and return to class about 15 minutes later. I share this information so that your student is not surprised or worried about these routine safety drills. 
Lockers, Backpacks, and Water Bottles
Although students have been assigned a locker and combination, they will not have access to them. All items need to be carried by the student in a backpack. All water fountains are not available either so students need to carry a water bottle. Our water bottle filler fountains will be available for student use in order to fill up their water bottles. 
Physical Education
Students will not be changing their clothes or using the locker rooms for Physical Education class. Students should come dressed in sneakers and appropriate clothes on the days that they have Physical Education class.  
MTTN 
Please use the attached link to view MTTN presentations from Thursday, September 10, 2020. It is also posted as 'News' on our school website.
Middle School Sports
All fall middle school sports will begin on Tuesday, September 29th. We are hosting combined East & West teams at MS East. Please click on the link below for more information.  
Thank you again for reading this rather long email. We are so looking forward to having students arrive next week. Please reach out to us with any concerns or questions.
SIncerely,
Dr. Seamus Clune
Principal